A Gordon Neufeld Parenting Course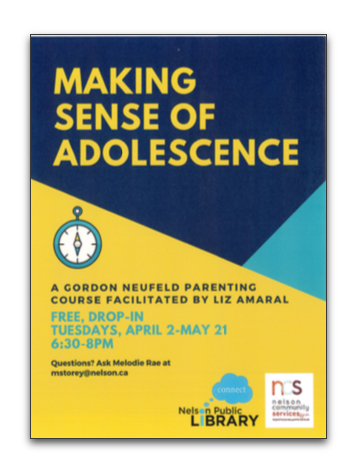 Crossing the bridge from childhood to adulthood has never been so daunting. The time of adolescence is longer than ever and yet society today offers little support in understanding or facilitating this transition. This course is designed to be used by parents, grandparents, teachers, administrators, professionals — anyone who desires to make sense of adolescence. Parents of pre-teens will find this course invaluable as preparation for what lies ahead.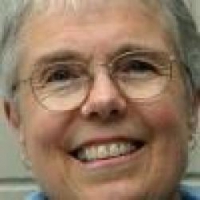 Facilitated by:  Liz Amaral of Nelson Community Services
Liz Amaral is a Certified Canadian Family Educator with 40 years of experience in the field of working with parents and children. She supports parents in identifying dynamics so that they can see their children from the inside out in a way that makes sense of attachments.

Free              Drop-in
Come to one, some or all…
at Nelson Public Library
Tuesday evenings — April 2 to May 21
6:30 to 8:30 p.m.

Course Outline
This course is formatted into eight one-hour sessions on the following topics:
Crossing the bridge: adolescence in perspective

Two paths diverge: conformity versus individuality

Walking through aloneness and sadness: the necessary road to individuation

Taking a wrong turn: when peers replace adults

The

counterwill

storm: how to survive teen resistance

Becoming tempered: the key to adolescent balance and stability

Reclaiming our youth: how to hold, or win back, their hearts

Becoming a sexual being: the pursuit of proximity in another dimension
Topics/Objectives
course objective
The objective of this course is to make sense of adolescents from inside out. Every adolescent is an individual of course, but there are some common dynamics that affect all adolescents. Understanding what these dynamics are can provide the keys to knowing how to deal with the problems that may arise.
some of the topics addressed include:
the psychological changes at puberty that impact adolescents and those that parent and work with them
how to deal with the premature loss of power and influence with an adolescent
the rites of passage that must be endured for the adolescent to mature
how to recognize when rebellion is healthy or a result of adults being replaced by peers
the psychological temptations faced by adolescents on their journey to maturity
how parents and teachers can avoid premature or forced retirement
the two alternate paths to adulthood and societal integration
how to preserve or restore one's rightful place in an adolescent's life
the dangers of peer-orientation in the life of an adolescent
how to differentiate between relationship problems and behaviour problems in the adolescent
the role of dissonance and internal conflict in the life of an adolescent
how to hold on without holding them back
For more information:  email Melodie Rae
Read more about the program here>>>