Nelson Community Services (NCS) assists people to define the issues affecting them and to determine their own resolutions in recognition of the fact that all individuals and families at some time experience difficulty in their lives.
Further, NCS maintains program flexibility to allow us to respond, in cooperation with government and other organizations, to the changing needs in our community.
 

OUR STRATEGIC PLAN

NCS operations are guided by a Strategic Plan. This plan is revised and updated by the Board of Directors in consultation with the Executive Director and Staff on a regular basis.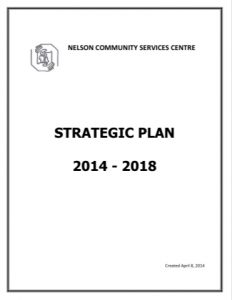 Read our current  Strategic-Plan-2014-2018 here.
 

Each person's right to be heard, to be safe, to have information, to make choices & to take control of one's life.
 

Accessible, free programs and services.
 

Ethical service delivery.
 

Non-discrimination.
Confidentiality.
 

Teamwork.
 

Being connected to our community and grass roots.
All components of a healthy community.
Professionalism in our work.
Respect for each other and our skills, experiences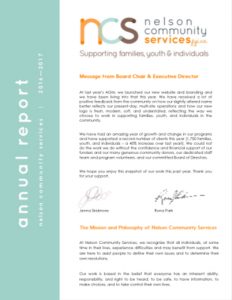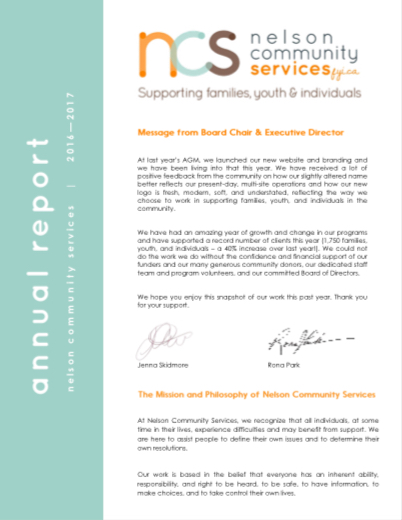 ANNUAL REPORT
Read our current 2016-17 Annual Report here.
  OUR ACCREDITATION
 Nelson Community Services (NCS) was first accredited by the Council on Accreditation (COA) in 2006. It was reaccredited in 2010 and 2014. Reaccreditation attests that NCS continues to meet the highest national standards. It also provides assurance that NCS is performing services which the community needs, conducting its operations successfully and managing its funds effectively.
COA is an international, independent, not-for-profit accrediting body of social and behavioral healthcare services. COA's mission "promotes best-practice standards; champions quality services for children, youth and families and advocates for the value of accreditation".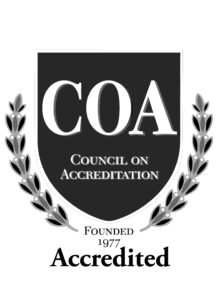 OUR GOALS
To maintain a Board that provides effective leadership and direction to the organization with regard to fulfilling our mission, maintaining positive public relations and being fiscally accountable.

To support our organization and staff to do the best possible job.

To effectively and strategically offer a spectrum of excellent services and programs (including counselling, programs for victims of family violence, life skills for adolescents and housing for low-income youth, family support services and outreach services) to meet the evolving needs in our community.

To maintain awareness of the programs and services we offer and the needs in our community.

To annually evaluate our performance in implementing our action and strategic plans and to modify them as needed.
 

OUR HISTORY
In the early 1970's a group of concerned Nelson citizens and service professionals recognized the need to create a new voluntary agency to operate a "crisis line" and volunteer counselling program for Nelson. They submitted a funding proposal to the federal government and with its approval, the Nelson Community Services Centre was born in 1972. From its initial focus on a youth crisis line, the Centre's early service model was to respond to whatever needs surfaced either through the crisis calls it received or the concerns that arose in the community. As each new need was recognized, the Centre would develop a new funding proposal to the federal or the provincial government to try to address it. A corps of community volunteers was always a central resource to be mobilized to deliver the agency's services. Over the years this service model led to the Centre offering a wide variety of services but without a clear organizational focus or mandate. In 1987 the Board of Directors hired a consultant to review the organizational structure, systems, programs, and mandate in order to recommend ways of making the agency more efficient and effective. The consultant's report recommended the Centre focus its programs in two or three service areas and hire a full-time administrator to oversee the process of consolidating the agency's programs. With client, staff and community input, the Board subsequently decided to focus on three areas: Counselling and Family Support Services, Youth Services and Services to Women in Abusive Relationships. We continue to focus on these three areas to the present day.